Research article

Open Access

Open Peer Review
This article has Open Peer Review reports available.
Strength-balance supplemented with computerized cognitive training to improve dual task gait and divided attention in older adults: a multicenter randomized-controlled trial
Received: 19 August 2014
Accepted: 9 December 2014
Published: 15 December 2014
Abstract
Background
Exercise interventions often do not combine physical and cognitive training. However, this combination is assumed to be more beneficial in improving walking and cognitive functioning compared to isolated cognitive or physical training.
Methods
A multicenter parallel randomized controlled trial was conducted to compare a motor to a cognitive-motor exercise program. A total of 182 eligible residents of homes-for-the-aged (n = 159) or elderly living in the vicinity of the homes (n = 23) were randomly assigned to either strength-balance (SB) or strength-balance-cognitive (SBC) training. Both groups conducted similar strength-balance training during 12 weeks. SBC additionally absolved computerized cognitive training. Outcomes were dual task costs of walking, physical performance, simple reaction time, executive functions, divided attention, fear of falling and fall rate. Participants were analysed with an intention to treat approach.
Results
The 182 participants (mean age ± SD: 81.5 ± 7.3 years) were allocated to either SB (n = 98) or SBC (n = 84). The attrition rate was 14.3%. Interaction effects were observed for dual task costs of step length (preferred walking speed: F(1,174) = 4.94, p = 0.028, η2 = 0.027, fast walking speed: F(1,166) = 6.14, p = 0.009, η2 = 0.040) and dual task costs of the standard deviation of step length (F(1,166) = 6.14, p = 0.014, η2 = 0.036), in favor of SBC. Significant interactions in favor of SBC revealed for in gait initiation (F(1,166) = 9.16, p = 0.003, η2 = 0.052), 'reaction time' (F(1,180) = 5.243, p = 0.023, η2 = 0.028) & 'missed answers' (F(1,180) = 11.839, p = 0.001, η2 = 0.062) as part of the test for divided attention. Within-group comparison revealed significant improvements in dual task costs of walking (preferred speed; velocity (p = 0.002), step time (p = 0.018), step length (p = 0.028), fast speed; velocity (p < 0.001), step time (p = 0.035), step length (p = 0.001)), simple reaction time (p < 0.001), executive functioning (Trail making test B; p < 0.001), divided attention (p < 0.001), fear of falling (p < 0.001), and fall rate (p < 0.001).
Conclusions
Combining strength-balance training with specific cognitive training has a positive additional effect on dual task costs of walking, gait initiation, and divided attention. The findings further confirm previous research showing that strength-balance training improves executive functions and reduces falls.
Trial registration
This trial has been registered under ISRCTN75134517
Keywords
Cognitive-motor training
Dual task costs
Divided attention
Cognitive functions
Executive functions
Exercise
Fall prevention
Background
The progressive and dynamic aging process is characterized by functional and cognitive changes that often lead to physical performance deficits and deteriorations in walking. These changes occur even in the absence of overt diseases. Potential consequences are increased risk for falls, loss of independence in activities of daily living, and poor quality of life [1–5]. Functional dependence in older adults is associated with increased health care costs and mortality [6–8]. Minimizing falls is a common concern of many interventions as a third of people aged 65 and older and half of those aged 85 and older sustain falls each year, from which 10% result in serious consequences [9, 10]. One key factor in staying independent and maintaining mobility is, therefore, to enhance walking ability in older adults.
The general health protecting influence of physical activity in relation to muscular, skeletal, metabolic and cardiovascular functions is well documented [11–17]. The effect of physical [18] and cognitive [19–22] activity on brain functioning has also been recognized. Physical activity, for example, has been suggested reducing the incidence of dementia or cognitive deterioration [23–25], and is related to enhancements in cognitive functioning and brain plasticity [26–30]. Cognitive interventions resulted in improved cognitive speed [31], attention [32], and concentration [31]. Thus, cognitive functions are amenable both through physical and cognitive exercise, even in old age [23, 33–37].
Disparate lines of research converge on the notion that sensorimotor and cognitive aging are linked to each other in old age [38], and that daily tasks such as walking are dependent on both sensorimotor processes and higher level cognitive functions [39]. In the past walking has primarily been seen as representing an automated and reflex-controlled process [40, 41], which remains automatic when not deviating from learned programs [42]. However, older adults with cognitive impairments are exposed to falls, even when their motor functions are fairly intact [43, 44]. Recent literature suggests that the impact of sensorimotor impairments on falls is in part moderated by executive functions (EF) [45]. A review on this topic summarizes the interplay between EF, attention and gait [46]. Among healthy older adults, victims of falls performed poorly on EF and attention-demanding tasks [40, 47, 48], and the ability to pay attention seems to be an important requirement for walking that also influences the risk for falling [49]. Individuals with poor EF in turn have reduced gait speed [50], are more prone to falls [51] and have an increased risk of mortality [52]. EF has also been shown to associate with higher gait variability, which marks unsteadiness and inconsistency in walking, and likewise increases fall risk [53–56]. For minimized stride-to-stride fluctuation in gait an intact neural control system appears to be required [53]. A further walking aspect that is associated with higher level sensorimotor functions is gait initiation, and difficulties to initiate gait are related to disorders in the frontal lobe [1].
Divided attention, one component of executive functions, and some aspects of selective attention seem to be especially impaired in the aging process [57]. Dual-task related gait changes result from the competition interference between two attention-demanding tasks [58], and studies of cognitive changes during the aging process indicate that older adults' ability to divide attention is decreased [59]. Compared to other specific components of executive functions, divided attention especially associates with spatial and temporal dual task cost characteristics of gait [60].
Basic components of a motor intervention program aiming to improve gait function in older adults are strength and balance exercises [61–64]. Training attention and executive function also improves gait [65, 66]. However, two recent reviews that focused on the interplay between physical functions and cognition concluded that it seems important to combine motor and cognitive therapy into clinical practice to enable older adults to move safer in their physical environment [46, 67] and that computerized interventions seem promising for this purpose [67]. Such an approach was tested in a pilot study, where traditional strength-balance training got complemented with computerized cognitive training of attention [68]. Cognitive-motor training tended to improve gait and foot reaction time to a greater extent than motor training alone. Because of the small sample size the association remained undetermined. There is a need for more studies on this topic with larger sample sizes [36, 46], and also for studies that address the effects of preventive interventions on cognitive performance [36] and, thereby, link the cognitive component to falls [46]. This study, therefore, aimed to further explore the additional effect of the supplemented cognitive training in a sufficiently powered trial. This randomized controlled trial was designed to examine the effects of exercise training and combined exercise and cognitive training on the physical and cognitive functioning of older adults. We hypothesized that both training groups would show significant improvements on measures of physical and cognitive functioning and, that the combined training group (exercise and cognitive training) would show greater walking function and cognitive improvements than the exercise-only training group.
Results
Variables describing the sample are summarised in Table
1
. One hundred eighty two participants fulfilled the initial eligibility criteria and were randomly assigned to either
SB
(94) or
SBC
(88). With the reallocation of 4 participants from
SBC
to
SB
the intervention started with 98 Participants in the
SB
and 84 Participants in the
SBC
group. A total of 156 participants completed the intervention (137 subjects living in the homes-for-the-aged and 19 subjects living in the vicinity) resulting in 14.3% attrition (Figure
3
). Adherence to strength-balance training was 91.4% for
SB
(21.9 out of 24 sessions) and 89.5% for
SBC
(21.5 out of 24 sessions). Average adherence to the cognitive intervention was 85.4% (307.4 out of 360 scheduled minutes).
Table 1
Participants' demographic and baseline characteristics
| Group | SBgroup | SBCgroup |
| --- | --- | --- |
| No. of participants with a complete questionnaire | 76 | 69 |
| Age (mean ± SD) | 81.9 ± 6.3 | 81.1 ± 8.3 |
| Sex (female, male) | 52, 30 | 49, 25 |
| MMSE score (mean ± SD) | 27.7 ± 2.9 | 27.6 ± 2.6 |
| Fall risk factors | | |
| Slow walking speed (<1.22 m/s) n(%) | 64 out of 77(83) | 62 out of 74(84) |
| Fell in the last 6 months n(%) | 23(30) | 20(29) |
| 3 or more prescription medications n(%) | 45(59) | 51(73) |
| Physical functioning; SPPB (mean ± SD) | 7.3 ± 2.6 | 7.3 ± 2.6 |
| Fear of falling; FES-I (mean ± SD) | 25.4 ± 8.0 | 26.8 ± 9.6 |
| Education/profession n(%) | | |
| University/College | 4(5) | 7(10) |
| Vocational Education | 52(68) | 41(59) |
| No educated profession | 20(26) | 21(30) |
| In a sitting position past profession | 15(20) | 18(26) |
| Health questions n(%) | | |
| Number of self-reported chronic diseases | | |
| Joint diseases | 35(46) | 34(49) |
| Hypertension | 40(53) | 37(54) |
| Cardiac Problems | 27(36) | 29(42) |
| Osteoporosis | 13(17) | 12(17) |
| Type II diabetes mellitus | 9(12) | 11(16) |
| Problems limiting walking function | | |
| Self-reported walking problems | 31(41) | 34(49) |
| Problems with legs | 40(53) | 41(59) |
| Need walking aid | 31(41) | 36(52) |
| Hearing problems | 41(54) | 35(51) |
| Vision problems | 34(45) | 32(46) |
| Dizziness | 28(37) | 21(30) |
| Estimated good health | 48(63) | 36(52) |
| Estimated better health compared with contemporary | 26(34) | 23(33) |
| Estimated good balance | 29(38) | 22(32) |
| Feel pain daily | 22(29) | 22(32) |
| Physical activity questions n(%) | | |
| Practiced some sport in the past | 34(45) | 34(49) |
| Practiced strength exercises in the past | 6(8) | 5(7) |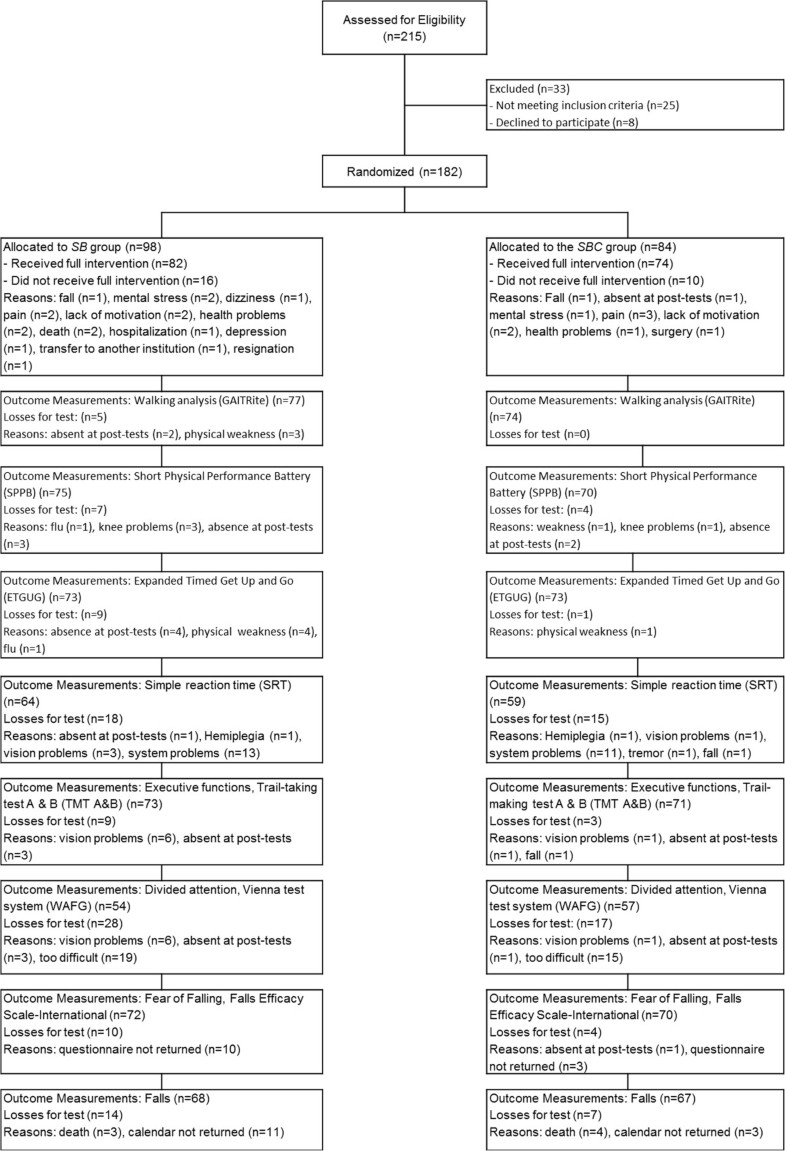 Primary outcome
Dual task costs of walking
Table
2
demonstrates results of the dual task costs of walking, excluding outliers. The results of sensitivity analyses [
93
,
97
] in addition to the primary intention to treat analyses where outliers are included, and the participants are analysed in the group where they were initially allocated, are reported in an additional file of this manuscript (see Additional file
1
).
Table 2
Dual task costs of walking of SB and SBC from pre- to post-test, between-groups differences and interaction effects
SBgroup (n = 77)

SBCgroup (n = 74)

pre-post differences (both groups)

between-groups differences

interaction effect

Conditions Parameters

Pre-test (mean ± SD)

Post-test (mean ± SD)

Pre-test (mean ± SD)

Post-test (mean ± SD)

pwithin/η2

pbetween/η2

pinteraction/η2

DTC preferred

Velocity (%)

13.9 ± 17.8

12.2 ± 15.0

17.5 ± 18.4

11.0 ± 17.5

0.002*/0.051

0.588/0.002

0.067°/0.019

Step time (%)

12.0 ± 25.2

9.6 ± 14.4

31.3 ± 88.7

10.0 ± 18.7

0.018*/0.033

0.061°/0.021

0.061°/0.021

Step length (%)

6.6 ± 9.0

6.6 ± 8.4

7.4 ± 9.7

4.4 ± 9.5

0.025*/0.028

0.558/0.002

0.028*/0.028

SD step length (%)

28.7 ± 53.2

27.9 ± 54.2

24.7 ± 50.4

18.0 ± 51.7

0.426/0.004

0.298/0.007

0.531/0.002

DTC fast

Velocity (%)

26.5 ± 13.2

21.9 ± 9.0

28.6 ± 13.3

22.7 ± 13.1

<0.001*/0.126

0.355/0.005

0.545/0.002

Step time (%)

23.1 ± 24.5

17.2 ± 10.1

18.8 ± 12.7

17.5 ± 17.2

0.035*/0.028

0.368/0.005

0.177/0.012

Step length (%)

10.8 ± 8.5

10.3 ± 6.7

13.1 ± 8.5

9.8 ± 8.3

0.001*/0.073

0.426/0.004

0.009*/0.040

SD step length (%)

17.1 ± 34.9

50.3 ± 150.1

25.1 ± 54.7

20.1 ± 43.2

0.311/0.006

0.625/0.001

0.014*/0.036
DTC preferred speed
Analyses of the DTC at preferred walking speed revealed a significant difference from pre- to post-test for velocity, step time and step length (Table 2). There was a significant interaction for step length (F(1,174) = 4.94, p = 0.028, η2 = 0.028), in favour of SBC.
DTC fast speed
The DTC at fast walking speed showed significant differences between pre- and post-test, again for velocity, step time and step length (Table 2). There were significant interactions in favour of SBC (step length: F(1,166) = 6.14, p = 0.009, η2 = 0.040; SD of step length: F(1,166) = 6.14, p = 0.014, η2 = 0.036).
Discussion
This randomized controlled trial examined whether a twelve-week strength-balance exercise regimen, supplemented with computerised cognitive training, would lead to greater improvements in dual task costs of gait, in physical and in cognitive performance compared to strength-balance exercise alone. The study also aimed at exploring the effect on fear of falling and fall rate. We expected improvements in measures of dual task gait, executive functions, and in particular – divided attention, mainly in the strength-balance-cognitive group. In addition, we hypothesized observing different levels in falls behaviour between the groups. Although both groups attained improvements in physical and cognitive performance, the results suggest positive interaction effects for dual task costs of walking and divided attention, in favour of SBC. The findings support the notion that it is advantageous to combine physical and cognitive training into clinical practice. The combination seems to have a positive influence on older adults walking abilities under dual task conditions compared to more traditional exercise [67].
Findings from a systematic review demonstrate that a strength and balance exercise regimen is able to preserve or enhance walking abilities [62]. The goal of this study, however, was to optimize walking under dual task conditions as expressed through minimized DTC of walking. Previous findings suggest that resistance training alone has the potential to improve cognitive functions, and particularly executive functions [30, 98]. However, the results of studies with similar groups performing similar strength-balance training, revealed no changes in DTC of walking [99, 100]. When training in combination with video games such improvements are believed achievable [101]. We demonstrated in this study an additional effect of our cognitive program in the sense that the DTC of walking were minimized especially in the SBC group. The significant interaction effects observed for step length and step length variability favouring SBC extends previous work providing evidence for an association between DTC of step length during fast walking and divided attention [60] into a causal relation. That the group training cognitive skills improved on this measure is reasonable since changes in brain structure associate with reduced gait speed that partly results from shorter steps [102]. Interventions focussing on brain health seem, therefore, important when the aim is to improve gait [102]. The assumption that older adults that fall show shorter step lengths and higher variability compared to non-fallers [103] strengthens the importance of the improvements in these walking parameters of SBC. The results of our study are in line with reviews and intervention studies supporting the combination of cognitive and motor programs to attain beneficial effects on DTC of walking compared to more traditional interventions [46, 67, 101]. With a thrice-weekly ten-minute cognitive training focussing on alertness, selective and divided attention, combined with strength-balance exercises, DTC of walking can be minimized.
We found a significant improvement in SPPB scores within both groups reflecting enhanced lower extremity function and walking ability [104]. On average, a person that reaches less than 10 points on the SPPB is almost 3.5 times more susceptible to suffer from mobility disability than a person scoring the maximum of 12 points [104]. At the beginning of training both the SB and SBC groups reached a mean score of less than 7.5 points, however, they both increased towards 9.3 resp. 9.5 points. Improved gait initiation was only observed for SBC. The fact that this intervention impacted on gait initiation is important. Gait initiation is frequently repeated during daily activities, leading to accidental falls during the step initiation phase in people with deficits in balance control [105] and relates to the quality of fronto-striatal brain connections [106]. Stable and efficient mechanisms of the central nervous system (CNS) are required for the control of posture during gait initiation. These mechanisms are complex and require efficient peripheral sensory detection and afferent nerve conduction, followed by central neural processing and efferent nerve conduction [107]. Within older adults, there seems to be a loss of efficiency in these mechanisms leading to falls during gait initiation [108]. It can be hypothesized that by the use of the computerised cognitive training acquired skills led to transfer effects in gait initiation.
The link between cognitive functioning, gait, and the potential for falls was previously established [3]. Specifically, poor EF and attention control, one of the core EFs [109], seemed to be related to fall risk and mortality [51, 52, 110]. Although both our groups were able to improve cognitive functioning as expressed through improvements in reaction time as well as EF, only the group receiving the additional computerized cognitive intervention improved in divided attention skills. Thus, in line with other authors, we demonstrated that falls prevention programs have a positive impact on EF [111], however, the findings also support the assumption that specificity of training applies to these specific EFs. EFs are trainable by repeated practice and with a progressive exercise intensity design at any age [109]. Where the physical training group improved more global measures of cognitive functioning, only the combined training group exhibited training specific improvements.
The non-significant interactions for several cognitive and physical parameters between the groups indicate that both groups improved equally. This seems reasonable because previous research literature describing promotion of resistance training indicated improved cognitive functioning, enhanced functional brain plasticity [30], and altered trajectory of cognitive decline in older adults with probable cognitive deteriorations [112]. Increased performance in selective attention and executive cognitive function for example – achieved through resistance training - has been related to higher walking velocity [98], which in turn relates to improved EFs [113]. Reductions in walking velocity, in general, correlate with declined cognitive factors (e.g. attention and psychomotor speed), falls, and mortality [114–117].
The clinical relevance of improved divided attention might be influencing falls rate in elderly because this function was previously shown to be related to gait and to falls [60]. Our findings, however, reveal no additional effect of training this specific cognitive aspect when it comes to falls. Both training groups improved on the falls parameter with similar magnitudes. Fall rate was reduced in both groups by more than 80% during the intervention period, and by more than 40% during the following 12 months. These results are similar or superior to other interventions incorporating strength and balance exercises [118] and present a clinically relevant reduction in fall risk. Furthermore, our findings confirm the findings of a systematic review including 54 randomised controlled trials showing that exercise programs that combine strength and balance training of sufficient quality can reduce falls with 38% [119]. Our findings compare favourable to other studies that added training components in the sense that the addition of a cognitive component did not lead to a lower effect on falls rate [119]. Unsurprisingly, the lowest fall rate was observed during the study, when compliance was warranted, considering the link between executive functions, gait and falls, and the assumption that poor treatment adherence is related to poor EFs [109]. The fall rate was higher after study termination, however, still significantly lower than prior to study commencement.
Although not more effective in terms of fall events observed, applying a combination of cognitive-motor training might be advantageous to move safer in challenging environments [46, 120] and, therefore, reduces fall risk. We assume this given the additional positive effect of the cognitive intervention on divided attention. To react adequately under circumstances where attention is divided is an important requirement in most activities of daily life. Therefore, with the focus on physical and cognitive improvements in complex situations and the execution of attention-demanding tasks, strength-balance training should be combined with cognitive training.
The results of the sensitivity analysis for DTC of preferred walking were not robust to the exclusion of outliers and changed when they were excluded. The primary analysis, shown in the Additional file 1, revealed a statistical interaction effect for DTC of velocity favouring SBC, which was not significant in the analysis where outliers were excluded. The non-significant interaction for SD of step length in our analysis with the outliers included demonstrated a trend to statistical significance in the primary analysis. The differences in mean values and standard deviations of the groups observable between the analyses implies that the results of the primary analysis were affected by the outliers [93]. Removing these participants from the analysis was legitimate to avoid bias and to minimize random error [94, 121].
In this trial, the dual task costs of walking were assessed. Not, however, the cognitive dual task costs while walking. To assess the possible effects of our program on cognitive functions we resorted to specific cognitive tests. In our trial the main interest was the effect of an attention-demanding task on gait performance. Participants were instructed not to prioritize one task (walking) over the other (calculating) but to try and perform both as good as possible at the same time. The ability of counting backwards was not used as an outcome measure to determine the effect of training on cognitive performance, thus, causing the reliability of this instruction for reproduction purposes being of lesser importance for our study. The only reason for using the counting task was to disturb the gait pattern of our subjects and, by doing that, determine the dual task costs of walking. Allowing both gait and cognitive task performance to vary has previously been shown to better represent the dynamics of daily living tasks of older adults [122, 123] and is, furthermore, a reliable procedure to determine dual task costs of walking even in older adults with mild cognitive impairments [124].
An obvious strength of our study is the rather large sample size minimising the chance of type I and II errors. This study, therefore, reveals credible estimates for these measures because it is sufficiently powered. However, when evaluating the validity of a study it is important to consider both the clinical and statistical significance of the parameters [125]. Researchers and clinicians should not focus solely on small P-values to decide whether a treatment is clinically useful, but should also consider the magnitudes of treatment differences [125]. The majority of the between groups comparisons for fast walking show small-to-moderate magnitudes of treatment differences and should, accordingly, lead to a cautionary interpretation. The relationship between physical and cognitive training research and its effect on gait in older adults requires further exploration. A possible explanation for these small-to-moderate effect sizes might be caused by the implementation of cognitive training. The advantages of computerized training programs are documented in recent work [67, 126]. In our program the motor and the cognitive part were offered as separate entities consecutively. There is increasing evidence, however, that simultaneously performed cognitive-motor programs are more effective in influencing both cognitive and motor functioning [34, 127]. The individual and combined effects of physical and mental exercise interventions reported cognitive benefits to be larger with the combined cognitive and physical training paradigms [128, 129].
Limitations
This study has several limitations. As already discussed the small-to-moderate effect sizes should be considered when interpreting data. The small magnitudes of the interaction effects give rise to possible bias in our research design [130]. We treated the dropouts of this study as a part of the treatment group to which they were assigned even if they did not receive the full intervention. Intention to treat is a recommended approach to several types of non-adherence to the study protocol [131], able to reduce the potential drop out bias effect [132]. We replaced missing data with the mean values of the groups, thus allowing complete case analysis. A drawback of this approach is reduced variability and weakening of covariance and correlation estimates in the data. We excluded outliers with a trimming method, which is a method applied when good reasons to believe that the subject(s) with the extreme value(s) was/were not from the same population [94] exist. The intention to treat analysis was not robust for some values of gait analysis with the outliers included. In particular the results for the SD for variability data (expressed as SD of step length) were different between the sensitivity analyses. A potential reason for outliers in the datasets is that the participants differed in baseline characteristics. One of our inclusion criteria was "able to walk 20 meters with or without walking aid", thus, all people able to walk were included, independent of their walking characteristics (e.g. walking velocity or instability).
To move 4 participants from SBC to SB was based on a similar consideration in order to avoid a random error, and has, potentially, the same origin [121]: We only registered "vision problems" in the baseline demographics of the participants. The ability to follow a game on a computer screen was not mentioned as inclusion criteria, which might be considered for future studies.
Furthermore, the study contained the training of three different dimensions of attention as cognitive training. It warrants further research to examine which program/s was/were the reason for the examined results. An obvious limitation was that the test for divided attention was too difficult for several participants, leading to floor effects and multiple losses for the test. The interaction effect for measures of divided attention should also be interpreted cautiously, since magnitude of treatment differences is small-to-moderate.
Conclusions
Both strength-balance and strength-balance-cognitive training enhanced physical performance, reaction time, executive functions, and reduced fall rate and fear of falling substantially. Only strength-balance-cognitive training reduced dual task costs of walking and improved gait initiation, and divided attention was merely improved by the cognitive-motor group. The larger improvements in divided attention and dual task walking highlight that an exercise program aiming at improving tasks that require attentional control should include a cognitive challenging element. This study may constitute a reference for further studies in the topic of fall prevention in older adults with the aim to improve physical performance under dual task conditions, and to reduce falls. Future studies are advised to compare different types and modes of exercise where different specific perceptual and cognitive demands are to be considered in the research design; e.g. complementary motor and cognitive training paradigms against integrative motor-cognitive training approaches.
Declarations
Acknowledgements
We gratefully acknowledge the support from the directors of the homes-for-the-aged who gave us the opportunity to perform the intervention in their facility. We acknowledge Rolf van de Langenberg, PhD, for statistical advice.
Authors' Affiliations
(1)
Department of Health Sciences and Technology, Institute of Human Movement Sciences and Sport, ETH Zürich, Zürich, Switzerland
(2)
Department of Epidemiology, CAPHRI School for Public Health and Primary Care, Maastricht, The Netherlands
(3)
Department of Epidemiology, Centre for Evidence Based Physiotherapy, Maastricht, The Netherlands
Copyright
© van het Reve and de Bruin; licensee BioMed Central Ltd. 2014
This article is published under license to BioMed Central Ltd. This is an Open Access article distributed under the terms of the Creative Commons Attribution License (http://creativecommons.org/licenses/by/4.0), which permits unrestricted use, distribution, and reproduction in any medium, provided the original work is properly credited. The Creative Commons Public Domain Dedication waiver (http://creativecommons.org/publicdomain/zero/1.0/) applies to the data made available in this article, unless otherwise stated.