Study protocol
Open Access
Open Peer Review
This article has Open Peer Review reports available.
Implementation of preventive strength training in residential geriatric care: a multi-centre study protocol with one year of interventions on multiple levels
Received: 5 October 2009
Accepted: 24 November 2009
Published: 24 November 2009
Abstract
Background
There is scientific evidence that preventive physical exercise is effective even in high age. In contrast, there are few opportunities of preventive exercise for highly aged people endangered by or actually in need of care. For example, they would not be able to easily go to training facilities; standard exercises may be too intensive and therefore be harmful to them; orientation disorders like dementia would exacerbate individuals and groups in following instructions and keeping exercises going. In order to develop appropriate interventions, these and other issues were assigned to different levels: the individual-social level (ISL), the organisational-institutional level (OIL) and the political-cultural level (PCL). Consequently, this conceptional framework was utilised for development, implementation and evaluation of a new strength and balance exercise programme for old people endangered by or actually in need of daily care. The present paper contains the development of this programme labeled "fit for 100", and a study protocol of an interventional single-arm multi-centre trial.
Methods
The intervention consisted of (a) two group training sessions every week over one year, mainly resistance exercises, accompanied by sensorimotor and communicative group exercises and games (ISL), (b) a sustainable implementation concept, starting new groups by instructors belonging to the project, followed by training and supervision of local staff, who stepwise take over the group (OIL), (c) informing and convincing activities in professional, administrative and governmental contexts, public relation activities, and establishing an advisory council with renowned experts and public figures (PCL). Participating institutions of geriatric care were selected through several steps of quality criteria assessment. Primary outcome measures were continuous documentation of individual participation (ISL), number of groups continued without external financial support (at the end of the project, and after one year) (OIL). Secondary outcome was measured by sensorimotor tests and care-related assessments in the beginning and every 16 weeks (ISL), by qualitative outcome descriptions 12 months after group implementation (OIL) and by analysis of media response and structured interviews with stakeholders, also after 12 months (PCL).
Conclusion
Exemplarily, preventive exercise has been established for a neglected target population. The multi-level approach used here seems to be helpful to overcome institutional and individual (attitude) barriers.
Trial registration
Current Controlled Trials ISRCTN55213782
Keywords
Resistance TrainingExercise ProgrammeResistance ExerciseStrength TrainingTraining Group
Background
Successful ageing is both in a psychological and physiological dimension a main goal most elderly people aim for. This includes keeping one's independence [1, 2]. Generally, it is well-known that aerobic and strength training can effectively contribute to this aim, even in high age [3]. However, highly aged people may have problems to easily go to training facilities; standard exercises may be too intensive and therefore be harmful to them, or too complex for effective and save execution; standard test procedures may not be appropriate for this target group; trainers may be inadequately educated. Additionally, the increased prevalence and incidence of orientation disorders like dementia would exacerbate individuals and groups in following instructions and keeping exercises going on. These general preconditions are even more precarious for people in need of ambulant or residential care. Therefore, research for this target group should not focus on strength and balance training alone, but also on how to implement programmes and how to distribute good practice to the public. In this paper, the following sections contain a rough problem analysis leading to multi-level approaches of programme development, implementation and diffusion. A preventive training programme and a study protocol will be described. An outlook of planned evaluation is given.
Methods
Overview: Conception and design of the study
The exercise programme described in the subsection Intervention is oriented towards a broad target group of elderly, who are frail or in danger of frailty. The development and dissemination strategy intends residential geriatric care to be a practical starting point to reach parts of the target group (facilities, staff, short transport). With these aims in mind (see also subsection Aims, approaches and strategies (Background)), the success of the first steps would strongly depend on the concrete institutions where the programme would be implemented initially. Therefore - in contrast to the broad inclusion at the individual level - a multistep selection process is conducted in order to find "optimal" institutions. "Optimal" means that the choice should give reason for a high probability of the institutions
to be able to conduct the programme for at least one year,

to adopt the programme before the project phase (and funding) ends, and

to serve as a model for other institutions having a similar structure, organisation, or environment, including possible problems to be solved in maintaining the programme.
The selection procedure is laid down in the following subsection, in order to find optimal model institutions. Unlike random sampling, these institutions will not represent a population of all institutions being part of the audience for the programme. In consequence, it is not indicated to draw statistical conclusions from the model institutions to a certain population. Inferential statistics will be part of later phases of the project, which will deal with dissemination of the programme. For the present study is oriented towards development, feasibility and best practice modeling, data analyses will be imbedded in a framework of evaluation research (see subsection Data analyses and evaluation framework). Evaluations are planned at multiple levels and time frames.
In summary, the protocol is an interventional single-arm multi-centre trial with one year of interventions on multiple levels and four accompanying points of measurement, and a 16-month follow-up. At Current Controlled Trials http://www.controlled-trials.com it was registered as ISRCTN55213782. There is a comprehensive project web site in German http://www.ff100.de, with an English summary http://www.ff100.de/index.php?page=neu.
Recruitment, inclusion and exclusion at the institutional and at the individual level
The following sections describe the recruitment criteria and procedures. The statements focus at the institutional level (care homes, subsection Procedure of model development) and at the individual level (participants, subsection Recruiting subjects for training groups). Figure
1
(section Preliminary results: establishing model institutions) gives an overview on the selection process, as well as on some resulting numbers of stakeholders at different levels. There were no participants or test persons planned at the political-cultural level. The activities in that context are written down in subsection Intervention).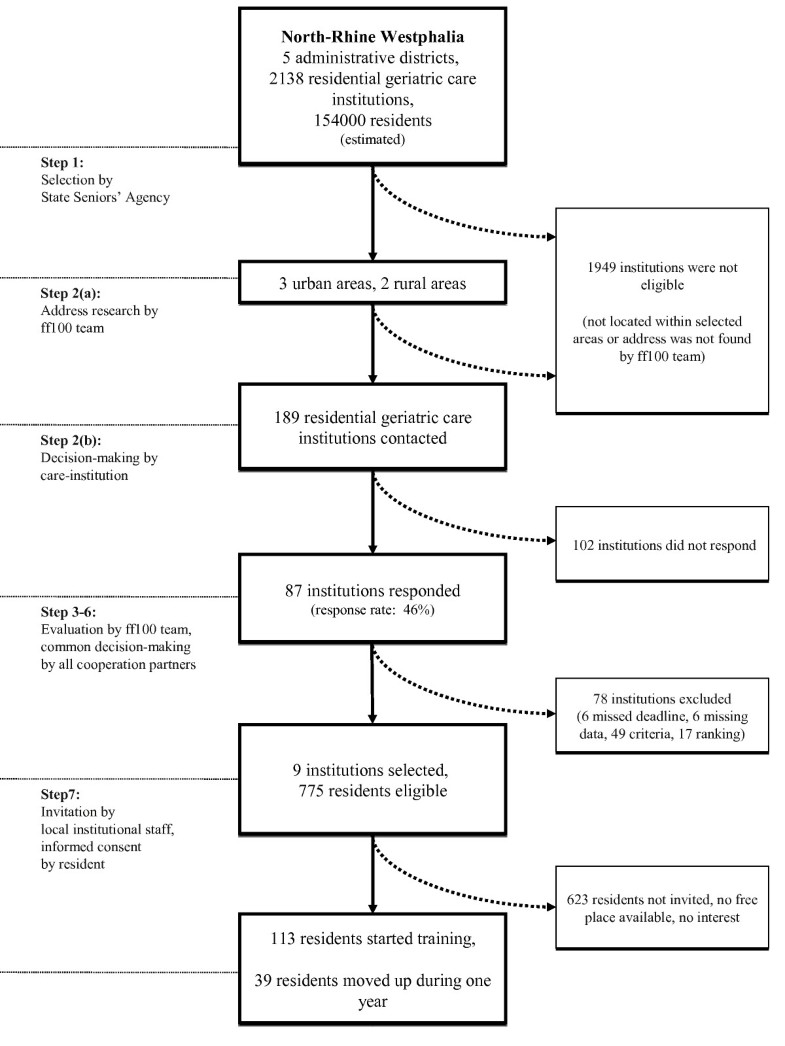 Procedure of model development
The trial is conducted in North-Rhine Westphalia, a German state with around 857,000 inhabitants aged 80 years and over (70% female) [46]. About 485,000 of them are in need of care, nearly 154,000 estimated to live in one of 2,138 residential geriatric care homes [47]. The plan to select candidates for institutional models of this population is as follows:
Step 1. The State Seniors' Agency, an official lobby organisation for the concerns of seniors, preselects five regions, intending to distribute governmental support over the state's five administrative districts.
Step 2. Using a written questionnaire, an ascertainment of all institutions of geriatric care is strived for. The subjects covered are present physical activity offers, interest in the new programme, and general data on the institution and its target group. Before sending the questionnaire, a personal contact is made by phone, in order to prepare participation in the enquiry.
Step 3. According to the aims above, candidates for the model project are detected by an exclusion process with predefined criteria:
rate of educated nurses lower than 55%,

less than 60 residents who are not bedridden,

no staff to guide participants to the training session and back,

no staff to take part in the project training, and

not enough room for regular group exercise (e.g. rearranging a dining room is not acceptable).
Step 4. The remaining institutions are ranked along the questionnaire results and the following criteria of general conditions:
balance between the preselected urban and rural regions,

enlist ambulant care, day care and residential care,

enlist different responsible institutions in the health system,

contain at least some proposals of cooperation partners, and

include different target groups, e.g. demented seniors.
Step 5. The "top three" in each preselected region are visited by project staff. The following aspects are considered in the visitation and the final selection:
manifest strong interest in a participation in the project, in further development of existing offers, in the sustainablility beyond the end of the project,

show an open mind to subjects like prevention, movement or training,

positive atmosphere of the conversation, enough time and full attention, and

positive social interaction of the management, staff and residents.
Step 6. After visitation, the ranking in each preselected region is reconsidered and up to ten institutions are selected, covering the five predefined regions. The selection is discussed with the project partners and is adopted concertedly by the management board (see below).
Recruiting subjects for training groups
As stated above, a broad inclusion is intended at the individual level. This corresponds to the inclusion procedure, which leaves the invitation of residents to the local staff. Keeping the "step" notation given above, which again serves as a description of figure 1 (section Preliminary results: establishing model institutions), subject recruitment is considered step 7:
Step 7. According to the grant application, two exercise groups in each of the five institutions were planned.
There are rather aspects of recommendation than decision criteria for inclusion:
Participants (men and women above 80 years of age) should be able to stand with assistance and understand instructions.

Group integration of a small number of persons not being able to stand up is made possible by alternative exercises.

Group integration of a small number of persons with orientation disorders is allowed, because an additional assistant is present in the group sessions.

The size of the groups should range from 8-12 seniors. This results in an expected sample size of 80-120 at the individual level.
The procedure is prepared by oral information in special meetings for residents, relatives and care-givers, and by a specially conceptualised education of training instructors (see subsection Target group orientation and staff (Background)). Residents are invited by nurses and participate on their own decision. New participants would move up if somone leaves the group. All participants have to give informed consent. A resident cannot be invited if
he/she is not able to take part in a group activity, or

exercise has been refused for a medical condition (by nurse or clinician).
Interventions
The interventional activities are grouped to the levels which have been introduced by the conceptual framework (see section Background).
Individual level: exercises and social contact
For one year, two training sessions are conducted each week, separated by at least one day. The first group sessions take 30-45 minutes and later they are extended to 60 minutes. Training volume is controlled via the number of different exercises covered (1-10), exercise repetitions per set (1-10) and number of series of all ten exercises (1-2). Training intensity is controlled by individual weight of dumb bells and ankle weights. Details are laid down in the subsection Development of the new exercise programme (Background).
Institutional level: Sustainable implementation of training groups
Right from the start of each training group, a positive example should be established for all local stakeholders (e.g. participants, relatives, care staff, management). Therefore, the group sessions are led by project staff or by exercise professionals with a special training in our programme. Subsequent to this demonstrative and motivating start, institutional staff is trained and would take over the group step by step. Supervision and coaching is conducted by project staff. Supervisors ascribe value to certain qualities of the programme in order to keep them, although resources are known to be scarce. Critical qualities, for example, are conduction of two sessions per week instead of one, or the presence of an assistant during group sessions in addition to the instructor.
During this process, the management and director of the institution are continuously provided with information. Other stakeholders (see above) and the physicians in charge are also informed. Conditions and possibilities to resume the training group after the end of the project are discussed. The negotiations would aim at the institution taking over the responsibility for the training group at a certain date, including personnel and finances. The adoption should be completed after 12 months at the latest.
Political-cultural level: convincing professionals, administration and the public
Exercise in accordance to training principles, offered to highly aged people in need of care seems strange for parts of the public and also for many professionals and decision-makers in the field of geriatric care and relevant administration. Therefore, activities at the political and cultural level aim at information, persuasion and gaining support for the continuation of the project, namely the training groups of stage I and the conduction of stage II and stage III of the project (see subsection Aims, approaches and strategies (Background)).
Project presentations in professional, administrative and governmental contexts are intended, e.g. during institutionalised meetings and committees, specialised conferences, or fairs. Mostly, attendance to these kinds of meetings is not open. Hence, a special invitation to present the project has to be strived for. Public relation activities (press, TV, Internet) are planned to be carried out as well. While the building of a homepage can be planned and conducted on our own, the attention of press and media has to be attracted, for example on occasion of the start of a new training group.
In addition to these continuing activities, two special milestones have been planned at the end of the stage I project term: first, the publication of a manual for implementing new training groups. Second, the organisation of a public conference with contributions from experts and politics. Last but not least, renowned experts and public figures have been contacted, in order to form an advisory council for all stages of the project, thus reaching out over the edge of stage I, and gaining support for sustainability of the outcomes.
Types and procedures of data collection
The primary outcome measures directly yield information on the achievement of the aims given in section Aims, approaches and strategies (Background). Measures refering to the effect of the interventions are called secondary outcome measures.
Primary outcome measures
At the individual level, the local instructors are told to continuously document individual participation and individual dumb bell and ankle weights. For this purpose, a special form is provided.
At the institutional level, the activities are oriented towards sustainability (see section Aims, approaches and strategies (Background)). Consequently, the success of the efforts will be measured by the number of institutions which will have adopted the training groups after financial support from the project grant has expired. In addition, the duration of funding by the project grant and, where appropriate, the new form of funding will be recorded.
16 months after the time of adoption, follow-up telephone interviews are conducted with the instructors and with the directors of the care residences, in order to learn about maintenance and changes in certain aspects of quality and participation, about problems and possibly about reactions in training and organising the groups. Finances are also covered. Most of the instructors and directors are personally known to the interviewer. There is an emphasis on taking care for a personal atmosphere with an interest in honest and respectful talk, including problems and possible solutions. "Desired" answers should be avoided.
The procedure is as follows: a letter announcing the telephone call would be sent by paper mail. During the second and third week after, the interview would be held. An electronic record of the interview is thought to disturb the open atmosphere. Hence, the interlocutors would be asked to allow a second investigator to listen. If so, the assisting interviewer takes notes of the interview on a prepared scheme with all subjects and questions to be talked of.
At the institutional and political-cultural level, an outcome description is carried out after 12 and 24 months, utilising
media response (number and types of contributions),

interest in the website and the offered newsletter (access number and subscription rate),

efforts to built the advisory council (number and "status" of personalities approached, and of confirmed council members),

disposition of the grant received and other resources (booking and account data), and

disposition of personnel costs (analysis of working time).
Secondary outcome measures
Effect data are collected at four points in time, at the individual level: just before each group would start and in week 16, 32 and 48. Sensorimotor tests and care-related assessments are selected by reference to everyday life. This should result in high external validity and also increase understanding and motivation of the participants. The institutional documentation of care often seems to contain information on orientation disorders which is not correct or sufficient. Therefore, a screening of cognitive competence by Mini-Mental Status Examination (MMSE) has been included. Details on all tests are given in the following subsections (see also Mechling & Brach [48]).
Sensorimotor tests
• Grip strength. Using a hydraulic hand dynamometer (Jamar, Sammons Preston Rolyan, IL), grip strength indicates general strength [49]. The test person presses the dynamometer with maximum effort. The best out of three attempts with the preferential hand is used.
• Chair-Stand. Time is measured for the test person to rise five times from a chair without using the arms. The Chair-Stand-Test [50] is a reliable and feasible test method with high prediction of fall hazards. It is used in many epidemiological studies.
• Complex rotational flexibility. This measurement is a combination between trunk and neck flexibility. A specially built device is used [51]. The visual field is wilfully implemented. The tested person has to turn head and trunk as far as possible to look at sports pictograms on a scale behind. Feet are fixed and arms are to be held next to the thighs. The best out of three attempts to either side counts.
• Shoulder flexibility. The test person moves the forward-stretched arms upward and backward as far as possible. Shoulder and hip need to touch the back board of the specially built test apparatus [51]. Holding arms vertically above the shoulder joints yields a value of zero. Arms in front of the zero point yield a negative value. Arms behind the zero point yield a positive value.
• Semi-Tandem-Stand. Participants should stand with the heel of one foot beneath the big toe of the other foot. This position should be held for 10 seconds without any support. Thus decreased lateral balance control would become obvious. There are clear correlations with falls [52].
• Soda Pop Test. Test of hand-eye coordination. The participants have to turn three full soda pop cans placed on a cardboard with their dominant hand. After turning all cans, they have to be reversed the opposite way around. Execution time is recorded in seconds. Procedure and material were slightly modified from Hoeger & Hoeger [[53], pp. 186-187].
• Colour check test. This is also an instrument for hand-eye coordination with a higher requirement profile. The test has been adapted from Lemmink and co-workers [54] to frail persons. Four different colours are to be verified and a higher degree of movement accuracy is necessary. 16 coloured tokens (four yellow, four red, four blue and four green) have to be sorted from mixed rows into colour-sorted squares and vice versa. Execution time is measured in seconds. Size and weight of the tokens have been adapted to the grip abilities of frail elderly.
Care related assessment
Barthel Index. This interview-based disability scale helps to evaluate the self-care ability of patients in ten different areas [55], including feeding, bathing, dressing, walking etc. The abilities are scored from 0 to 15 points per category, depending on the need for assistance. More points mean less needed assistance. Maximum total score is one hundred. 30 or less points mean absolute dependency on care.

IADL. Instrumental Activities of Daily Living (IADL) such as shopping, managing finances, housekeeping and meal preparation etc. describe the functional ability of independent living for elderly persons [56]. Maximum score is eight points. Like Barthel-Index a low score means reduction of independence.

Mini-Mental-State-Examination. The Mini-Mental-State-Examination MMSE was designed as a clinical screening method for grading cognitive impairment [57]. It includes items that assess orientation, registration, recall, attention, calculation, language and visual and constructional tasks. Maximum score is 30 points. A score of 24 or less points can be associated with mental disorders.

Individual well-being and expectations. A questionnaire about current state, subjective feelings of health and well-being, and the expectations upon the intervention programme has been designed. It should also reflect the individual emotional and psychological aspects of the intervention. For all persons with an MMSE score of 24 or less, the individual reference care staff answers the questionnaire.
Data analyses and evaluation framework
In order to analyse the process and outcomes of the programme, two conceptual frameworks shall be utilised.
For evaluation of the programme, the RE-AIM framework [58, 59] seems to be very helpful, especially when the prerequisites and tasks described above (section Aims, approaches and strategies (Background)) are considered. It consists of the dimensions Reach, Efficacy/effectiveness, Adoption, Implementation and Maintenance, the initial letters forming the acronym RE-AIM. Together they cover the individual and the institutional level. While the effects dimension is well-known, an outline on the other aspects follows: reach refers to the proportion of the target group reached and whether the participants represent the target group, adoption deals with corresponding aspects at the institutional level. Implementation describes how often and in what quality the participating institutions deliver the intended service to the target group. Finally, the maintenance aspect directly corresponds to one of the aims of the project, dealing with long-time effects at both the individual and institutional level. Data and parameters named in the subsection Types and procedures of data collection (Methods) will be interpreted in the sense of the RE-AIM concept.
Another conceptual framework will be helpful in order to prepare stage III of the project (see section Aims, approaches and strategies (Background)): the programme will be considered an innovation in the sense of innovation and diffusion theory [60, 61]. Three domains are discriminated in this theory: invention, testing and dissemination. Assigning costs spent on these domains can help to improve and plan dissemination in stage III.
Consulting a management board and an ethics committee
A management board has been implemented, including official institutions and project partners: the State Seniors' Agency, and the State Sport Federation of North-Rhine Westphalia. The management board has not only approved before research started, but is consulted on a regular basis (every four months) during the whole project. For example, the preselection of regions, and the final selection of model institutions are discussed in and approved by the management board. The research to be carried out is in compliance with the Helsinki Declaration. The protocol has been fully approved by the German Sports University Cologne Ethics Committee (Cologne, Germany).
Preliminary results: establishing model institutions
In this section, the results of the selection process are given. The steps are numbered according to the section Recruitment, inclusion and exclusion at the institutional and at the individual level (Methods), where the procedure is described. For an overview, see figure 1.
Step 1. The State Seniors' Agency chose one area in each of the five administrative districts of the state of North-Rhine Westphalia. The result was that the project focussed on three urban and two rural areas.
Step 2. For a complete official directory of geriatric care institutions did not exist, address research on the Internet and in telephone books had to be carried out. A total of 189 institutions were found, between 31 and 48 per area. Reference persons were located and contacted by phone, if possible.
They were presented the rationale of the project and asked for participation. The questionnaire was addressed to the reference person. A person in charge was found for 112 (51%) institutions. The other 77 questionnaires were sent to a general address. For the inquiry happened to take place in the summer vacation season, the response deadline was prolonged and institutions without response were remembered by a phone call.
Step 3. 81 (43%) forms were returned. Six additional returns (3%) missed even the prolonged deadline and could not be considered for reasons of project management. Another six were excluded, because essential data was missing. The remaining 75 forms were evaluated. 49 of them were excluded by the criteria given in the section Recruitment, inclusion and exclusion at the institutional and at the individual level (Methods):
rate of educated nurses lower than 55% (35),

less than 60 ambulating residents (10),

no staff to guide participants to the training session and back (1),

no staff to take part in the project training (2), and

not enough room for regular group exercise (1).
Step 4. The remaining 26 institutions were ranked on the given data and the criteria of general conditions (see subsection Procedure of model development (Methods)).
Step 5. Visitations of the 15 candidates, three in each preselected region, were arranged. The visitation included talks of two team members with the director, the managing nurse, the manager of the allied health services, and other key stakeholders. Valuable personal impression was evaluated and a final set of potential models was recommended, according to the given soft criteria (see subsection Procedure of model development (Methods)).
Step 6. A total of nine institutions was recommended for the project. The selection was discussed with the management board and was adopted concertedly. Details can be found in [48].
Step 7. In the model institutions, a total of 775 residents were eligible for participation in the exercise groups. 113 of them started the training. The average of 12.6 participants per group was higher than the recommended group size of 8-12 persons. Despite the number of groups was less than maximum (nine vs. ten), the number of individuals was within the expected range. 39 additional persons moved up, when places were left free. The 152 overall participants were 11.8% male (mean age ± standard deviation: 78.1 ± 11.2 years), 88.2% female (82.2 ± 11.2 years).
Discussion
We conceptualized a strength and balance programme for very old persons endangered by, or actually in, need of care. Using a multi-centre trial design with one year of interventions at multiple levels, research on feasibility and implementation is started in residential care institutions.
A reason for this is an image seen not only in the public, but - often implicitely - also in health care professionals and decision-makers: residential geriatric care is seen as the endpoint of an intervention continuum covering prevention - acute care - rehabilitation - residential care, the last section mostly being a terminus without return. This image is also reflected in health care systems. Therefore, preventive balance and strength training within residential care may sound like an oxymoron to many ears. Consequently, our scientific research in this topic uses a multi-level approach: while literature shows evidence for training effects at the individual also in highest age, feasibility and change management at the institutional level as well as training and behaviour of the instructors should be focus of further research.
Using "an approach of technological science" [11], the trial described here should yield some evidence for implementation and maintenance of the new training programme, and on the long run maybe some ideas for system change management. First results show the feasibilty of the programme, even for residents suffering from severe orientation problems [62, 63]. They even seem to benefit to a similar extend [64], a hypothesis subject to planned analyses and further studies.
While our own programme focusses on strength more than on balance, Oddsson and colleagues recently published a programme [65] which targets on balance exercise. Similar to our programme, they attached importance to training principles. Possibly, dependent on the target group, a combination could be encouraged in the future.
Declarations
Acknowledgements
This study was externally funded by grants of the Ministry of Work, Health and Social Affairs of the state North-Rhine Westphalia, Germany, grant no. 64-V42A-2534 (01/06/05 - 31/05/07) and 24-64-V42A-2947 (01/06/07 - 29/02/08). The authors wish to thank their colleagues Jutta Brinkmann-Hurtig, Michaela Meier, and Michael Csöff for their assistance in the project, including the collection of data, and Ulrike Kraus for her outstanding support with implementation of the training groups and education of the instructors. Editorial, proof-reading and English language assistance for this manuscript came from Katharina Gangel, Tobias Morat, Ulrike Müller, Sven Lünzer, and Friederike Rosenfeld, expert advice from Peter Preuss.
The project owes a lot to the partnership with the State Seniors' Agency of North-Rhine Westphalia, Münster, Germany [German: Landesseniorenvertretung] and the State Sport Federation of North-Rhine Westphalia, Duisburg, Germany [Landessportbund]. Much ideational and personal support was given by Anke Borhof, Dr Uta Renn, and Wilhelm Krümpelmann. Dr Renn passed away in December 2008. Last but not least, we thank each participating institution and individual. All of them were ready for a new challenge and experience.
Authors' Affiliations
(1)
Institute of Sport Science, University of Münster, Münster, Germany
(2)
Institute of Sport Gerontology, German Sport University Cologne, Cologne, Germany
Copyright
© Brach et al; licensee BioMed Central Ltd. 2009
This article is published under license to BioMed Central Ltd. This is an Open Access article distributed under the terms of the Creative Commons Attribution License (http://creativecommons.org/licenses/by/2.0), which permits unrestricted use, distribution, and reproduction in any medium, provided the original work is properly cited.