Erratum to: Evaluation of a technology-enhanced integrated care model for frail older persons: protocol of the SPEC study, a stepped-wedge cluster randomized trial in nursing homes
BMC Geriatrics
BMC series – open, inclusive and trusted
2017
17:106
Received: 27 April 2017
Accepted: 27 April 2017
Published: 15 May 2017
After the publication of this work [
1
] it was noticed that the
SPIRIT figure template
was incorrectly published as Fig.
1
. The original version of this article was updated with the correct figure. Please see the correct Fig.
1
below.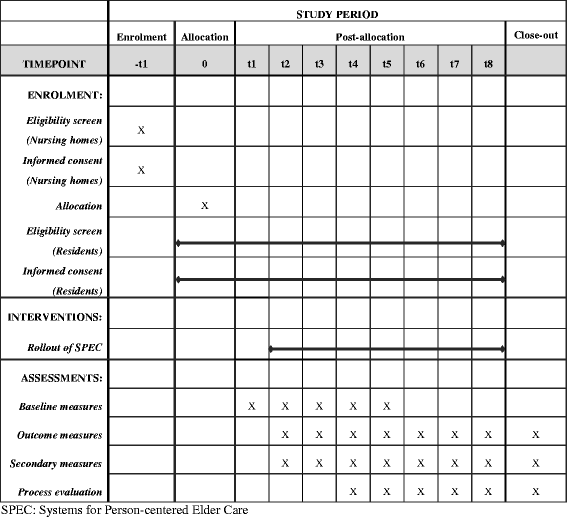 Open AccessThis article is distributed under the terms of the Creative Commons Attribution 4.0 International License (http://creativecommons.org/licenses/by/4.0/), which permits unrestricted use, distribution, and reproduction in any medium, provided you give appropriate credit to the original author(s) and the source, provide a link to the Creative Commons license, and indicate if changes were made. The Creative Commons Public Domain Dedication waiver (http://creativecommons.org/publicdomain/zero/1.0/) applies to the data made available in this article, unless otherwise stated.
(1)
Department of Public Health Science at Graduate School of Public Health, Institute of Aging, Institute of Health and Environment, Seoul National University, 1 Gwanak-ro, Gwanak-gu, Seoul, South Korea
(2)
College of Nursing, the Research Institute of Nursing Science, Seoul National University, Daehakro 103, Jongno-Gu, Seoul, South Korea
(3)
Institute of Health and Environment, Seoul National University, 1 Gwanak-ro, Gwanak-gu, Seoul, South Korea
(4)
Youngsan University, College of Nursing, Yangsan Campus, 288 Junam-ro, Yangsan, Gyeongnam, 50510, South Korea
(5)
Department of Public Health Science at Graduate School of Public Health, Seoul National University, 1 Gwanak-ro, Gwanak-gu, Seoul, South Korea
(6)
College of Natural Sciences, Department of Statistics, Seoul National University, 1 Gwanak-ro, Gwanak-gu, Seoul, South Korea
(7)
Department of Public Health Science at Graduate School of Public Health, Institute of Health and Environment, Seoul National University, 1 Gwanak-ro, Gwanak-gu, Seoul, South Korea
Kim H, Park Y-H, Jung Y-I, Choi H, Lee S, Kim G-S, et al. Evaluation of a technology-enhanced integrated care model for frail older persons: protocol of the SPEC study, a stepped-wedge cluster randomized trial in nursing homes. BMC Geriatr. 2017;17:88.View ArticlePubMedPubMed CentralGoogle Scholar