Research article
Open Access
Open Peer Review
This article has Open Peer Review reports available.
The effects of advanced age on primary total knee arthroplasty: a meta-analysis and systematic review
BMC Geriatrics
BMC series – open, inclusive and trusted
2016
16:41
Received: 2 October 2015
Accepted: 1 February 2016
Published: 10 February 2016
Abstract
Background
Total knee arthroplasty is an effective treatment when nonsurgical treatments fail, but it is associated with risk of complications which may be increased in advanced age. The purpose of this study was to quantify age-related differences in perioperative morbidity and mortality after total knee arthroplasty through systematic review of existing literature.
Methods
PubMed, the Cochrane database of systematic reviews, Scopus, and clinicaltrials.gov, were queried for relevant studies that compared primary total knee arthroplasty outcomes of mortality, myocardial infarction (MI), deep vein thrombosis (DVT), pulmonary embolism (PE) and functional status, of geriatric patients (>75 years old) with a younger control group (<65 years old). Pertinent journals and reference lists were hand searched. Eligibility criteria included all articles except case reports, meta-analyses, and systematic reviews. Two authors independently extracted data from each paper. Article quality was assessed using the Newcastle-Ottawa Scale.
Results
Twenty-two studies were included. Geriatric patients had higher rates of mortality, MI, DVT, and length of stay in older compared to younger patients, however the absolute magnitude of these increases were small. The increase in mortality may have reflected decreased life expectancy in the geriatric populations as opposed to mortality specifically due perioperative risk. There were no differences in PE incidence and improvement in pain and functional status was equal in older and younger patients. Existing studies were limited by non-randomized patient selection, as well as variation in definitions and methodology.
Conclusions
Existing data supports offering primary total knee arthroplasty to select geriatric patients, although the risk of complications may be increased. Much of the data was of poor quality. Future prospective studies are needed to better identify risks and benefits of total knee arthroplasty so that patients and surgeons can make informed decisions.
Keywords
Knee arthroplastyAgedPostoperative complicationsMortalitySystematic literature review
Background
Total knee arthroplasty (TKA) is a common and effective procedure for the treatment of end-stage osteoarthritis of the knee. Patients undergoing TKA are primarily geriatric and in the US 75 % of TKA were performed on Medicare beneficiaries [1]. Cram et al. found that annual TKA volume among Medicare enrollees increased 161 % and per capita utilization of TKA increased 99.2 % between 1991 and 2010 [2]. This increase reflects the observed improvements in pain, function, and independence in an elderly population and increasing acceptance of invasive treatment [3, 4]. Four of five patients undergoing total knee arthroplasty are satisfied with their knee replacement postoperatively [5].
However, both risks and costs may be increased in geriatric patients with comorbidities, which may lead to fewer elective orthopedic procedures. Patients aged 85 years or older are 41 % less likely to receive TKA than their younger counterparts [1]. Patients who did not undergo surgery were older and almost half of these patients were not offered TKA [6]. Prior investigations into the effects of age on various surgeries have found mixed associations [7–11], and the impact of age on candidacy for TKA is undefined. A better understanding of the risks and benefits of TKAs in this population would allow for more appropriate patient selection.
In order to clarify the effect of age on total knee arthroplasty, we systematically reviewed and evaluated studies from 1990–2015 that investigated the association of age on surgical outcomes.
Results
Figure
1
summarizes the search and review process. Among the 163 articles that were reviewed in detail, 22 studies on independent populations reported data that contributed to the systematic review (see Additional file
2
). Some articles contained more than 1 outcome of interest. Most articles defined older patients as greater than 80 years old. The average Newcastle Ottawa score was 6, signifying moderate quality studies.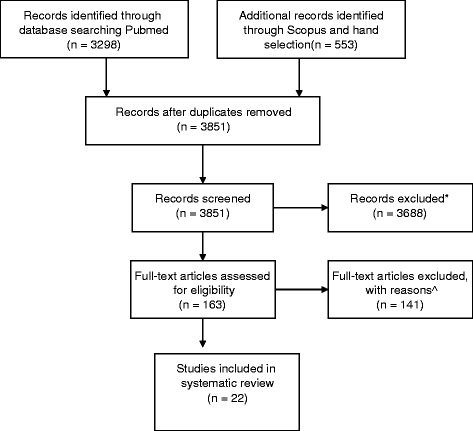 Discussion
The currently available literature provides limited information on the potential safety and efficacy of knee replacement in the geriatric population. This information is limited by the ability to uniformly define either our population of interest or the optimal endpoints to measure. Although morbidity may be increased in this population, the absolute incidence of each endpoint is small while benefits appear to be uniform across the age groups. Thus, elective knee arthroplasty could be beneficial in select geriatric individuals.
There was variation in methodology, including the definition of age groups and the duration of follow-up, however the weight of available evidence suggests increased mortality for geriatric patients in both the immediate post-operative period as well as several years following TKA. Although mortality is a principle indicator of patient safety, it has limited application as a marker for total knee arthroplasty. Short-term mortality after TKA is less than 0.5 % [19, 38]. Mahomed, et al. in a study of Medicare recipients in 2000 found that there was a 90-day mortality rate of 0.6; (95 % confidence interval, 0.6–0.7) which was fewer deaths than would be expected in the unselected Medicare population who did not undergo total joint replacement [39]. Geriatric patients were enrolled for elective surgery in all identified studies, which introduces the potential for substantial selection bias in sampling. For knee replacements in the general population, mortality returns to baseline levels approximately one month after surgery [40]. It is not clear that this trend would apply to the geriatric population, but over several years it seems likely that baseline mortality trends would dominate. The life expectancy for an 85-year-old patient in the US is approximately 6 years [41]. Examining mortality rates 10 years postoperatively in this population does not make clinical sense.
Second, there is limited evidence of an increased complication rate for TKA performed in the geriatric population. In addition to the meta-analysis above, two large studies that did not meet inclusion criteria with over 200,000 patients reported statistically significant increased rates of acute MI in short term follow-up periods of six weeks (≥80 years [HR 8.20 (2.38–28.22)], 60–79years [HR 2.55 (0.77–8.42)] [42] and ninety days [RR 5.0 (2.8–8.6) >90 years relative to 65–69 years [39]. In contrast, there was no significant increase in DVT or PE in older patients despite increased incidence of common risk factors such as cancer, congestive heart failure, and impaired mobility [43]. This may have been due to the low incidence of postoperative DVT, as low as 0.4 % in Medicare patients receiving TKA using prophylactic strategies [2]. Other potential explanations include more aggressive perioperative DVT prophylaxis in geriatric patients with comorbidities, as well as selection bias towards patients with minimal comorbidities in elective TKA. DVT prophylaxis techniques were not mentioned in the majority of studies. Hilton [21] stated that all patients used antithrombotic stockings and 43 % used heparin subcutaneously twice daily. Biau [23] stated that "prophylaxis was given to everyone" and Clement [24] stated that DVT prophylaxis was given based according to the Scottish Intercollegiate Guidelines. Kennedy mentioned that the elderly patients may have had more thorough venous thromboembolism prophylaxis rates [28].
Both geriatric and control patients had similarly high satisfaction with their joints ranking similar scores for overall satisfaction and improvement in functional status. Compared to the population norm for a particular age group, patients aged 75 years and over improved significantly, becoming similar to population norms for this age [44]. Studies have shown that geriatric have similar to worse functional scores at baseline compared to younger patients [2] implying that geriatric patients may delay surgery longer or they are being denied surgery that younger patients would have received. Despite this, patients who underwent total joint arthroplasty had significantly improved WOMAC scores compared with those who did not undergo surgery, however, 45 % of those who did not have surgery were not offered a surgical option [6]. The other 55 % felt that pain and complications of surgery and needing someone to care for them after surgery were hurdles to surgery [6]. Although the direct cost of the operation may be increased due to the greater LOS, this cost may need to be weighed not against younger controls but against the increased caregiver needs and loss of independence in those patients treated without invasive therapy. Further studies may be necessary to better define the cost-effectiveness of the procedure in the geriatric population.
Limitations
This review was limited due to the nature of the extant available literature. Definitions varied, not only the definition of "geriatric" but also of mortality, myocardial infarction, DVT, functional recovery, which complicate efforts to synthesize the data into a single answer. The vast majority of studies reviewed for this article compared a selected geriatric population to matched, younger controls. There is limited data describing how these patients were selected, and the results may not be applicable to unselected geriatric patients presenting for initial evaluation. Many of the studies were done in the 1990's making it difficult to compare to contemporary surgeries, as there have been significant changes in intraoperative and perioperative management since that time.
Conclusions
In conclusion, the available data suggests that selected geriatric patients face similar risk to younger patients undergoing elective TKA, with comparable improvements in functional status. In patients with good functional status and minimal medical comorbidities, age alone should not contraindicate knee arthroplasty. Future, dedicated investigations are need improve selection criteria.
Abbreviations
DVT:

deep vein thrombosis
LOS:

length of stay
MI:

myocardial infarction
PE:

pulmonary embolism
TKA:

total knee arthroplasty
Declarations
Acknowledgements
The authors acknowledge Peter Cram, MD, MBA for mentoring and developing the concept for the meta-analysis and systematic review. The authors also acknowledge Richard Hoffman, MD for critically reading the manuscript.
Open AccessThis article is distributed under the terms of the Creative Commons Attribution 4.0 International License (http://creativecommons.org/licenses/by/4.0/), which permits unrestricted use, distribution, and reproduction in any medium, provided you give appropriate credit to the original author(s) and the source, provide a link to the Creative Commons license, and indicate if changes were made. The Creative Commons Public Domain Dedication waiver (http://creativecommons.org/publicdomain/zero/1.0/) applies to the data made available in this article, unless otherwise stated.
Authors' Affiliations
(1)
Department of Internal Medicine, University of Iowa, Carver College of Medicine, Iowa City, USA
(2)
Center for Comprehensive Access and Delivery Research and Evaluation, Iowa City VA Health System, Iowa City, USA
(3)
Department of Epidemiology, College of Public Health, University of Iowa, Iowa City, USA
(4)
Health Sciences Clinical Education Librarian, Hardin Library of the Health Sciences, University of Iowa, Iowa City, USA