Meeting abstract

Open Access
Prognostic value of PCR, IL-6 and IL-10 serum levels in determining postoperative complications after geriatric surgery in diabetic patients
BMC Geriatrics volume 10, Article number: A5 (2010)
Background
The onset of postoperative septic complications has been associated to serum levels of interleukin (IL) IL-6 and IL-10. [1, 2]. We have extrapolated a diabetic group from a previous study to evaluate pre and postoperative profiles of some inflammatory markers (IL-6 , IL-10 and CRP). We related the data obtained to the onset of postoperative complications. Diabetic patients have been selected because of their high rate of post-operative complications, especially surgical wound infection.
Materials and methods
We evaluated 15 patients, 6 males and 9 females, aged ≥ 70 (range 70-83). The preoperative criterium for inclusion was non urgent major abdominal surgery and a diabetes diagnosis, the exclusion criteria were: urgent abdominal surgery, therapy with steroid and/or immunosuppressor drugs during the 30 days before admission. For each patient we collected three peripheral venous blood samples, at preoperative time 0 (t0), and then at first (t1) and seventh (t2) postoperative day. Cytokine evaluation was obtained by the ELISA method with the "sandwich" tecnique. Among the latter we considered: surgical wound infection; urinary tract infection; respiratory infection / respiratory failure; SIRS and/or sepsis; anastomotic leakage; peritonitis.
Results
We observed 4 complications corresponding to 26,6% of all evaluated patients (Table 1).
All subjects at (t1) showed an elevation of IL-6 levels, more consistent in the complicated ones (140.25 ± 100.89 pg/ml vs 91.54 ± 31.75 pg/ml) (Figure 1). IL-1 showed lower basic levels (t0) in complicated patients (14.54 ± 12.64 pg/ml vs 12 ± 10.70 pg/ml) and also in (t1) (26,36 ± 31,43 pg/ml vs 14,75 ± 7,41 pg/ml ) (Figure 2). The CRP values didn't differ at any time between the two groups (Figure 3).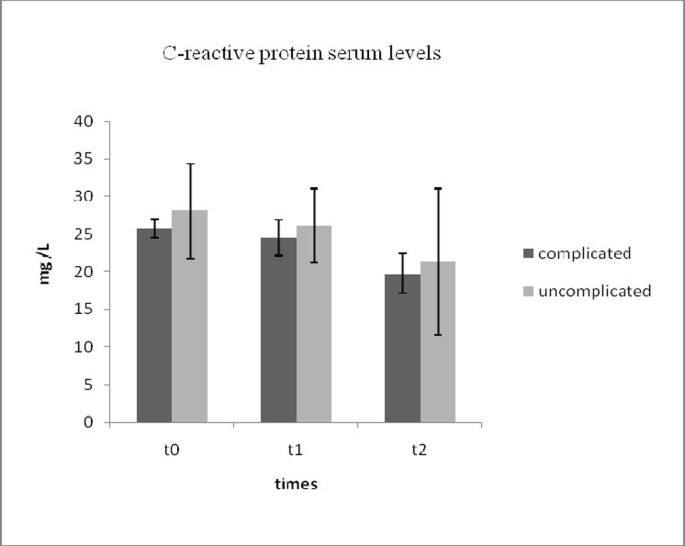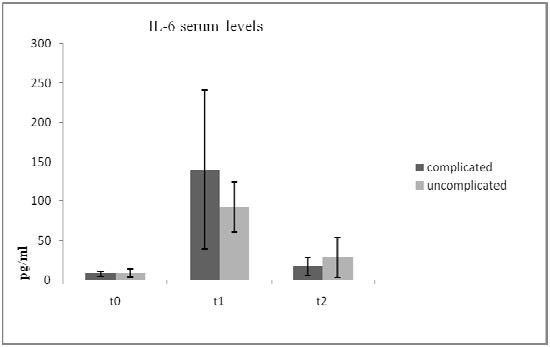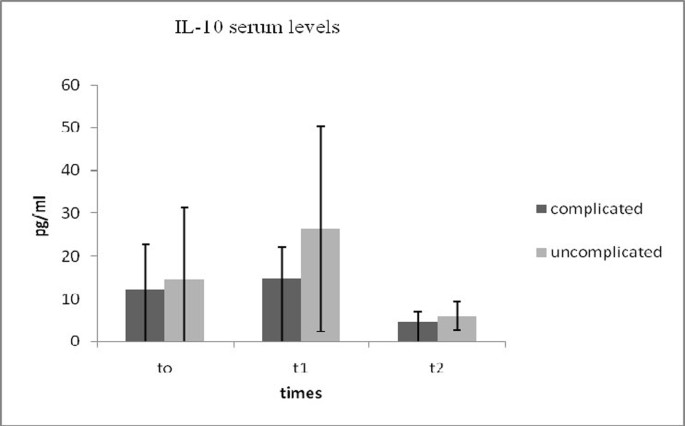 Conclusions
In the group of elderly diabetic patients observed, so as in the general population, according to published data [1], IL-6 and IL-10 may be referred as prognostic markers with regard to postoperative complication. It would be moreover useful to identify a cut-off value to select the subjects with a higher postoperative risk.
References
1.

Mokart D, Merlin M, Sannini A, et al: Procalcitonin, interleukin 6 and systemic inflammatory response syndrome (SIRS): early markers of postoperative sepsis after major surgery. Br J Anesth. 2005, 94 (6): 767-73. 10.1093/bja/aei143.

2.

Maggio M, Guralnik JM, Ferrucci L, Longo DL: Interleukin-6 in aging and chronic disease: a magnificent pathway. J.gerontology (MS). 2006, 61: 575-584.
Rights and permissions
Open Access This article is published under license to BioMed Central Ltd. This is an Open Access article is distributed under the terms of the Creative Commons Attribution 2.0 International License (https://creativecommons.org/licenses/by/2.0), which permits unrestricted use, distribution, and reproduction in any medium, provided the original work is properly cited.
About this article
Cite this article
Cudia, B., Balistreri, C.R., Guercio, G. et al. Prognostic value of PCR, IL-6 and IL-10 serum levels in determining postoperative complications after geriatric surgery in diabetic patients. BMC Geriatr 10, A5 (2010). https://doi.org/10.1186/1471-2318-10-S1-A5
Keywords
Diabetic Patient

Postoperative Complication

Anastomotic Leakage

Septic Complication

Diabetes Diagnosis