Meeting abstract

Open Access
Chronic muscular Pain treatment with Muscular Acoustic Modulator Device in elderly
BMC Geriatrics volume 10, Article number: A111 (2010)
Background
Muscles Contractures are an important part of multi-factorial etiology of chronic pain.
MAM® is an acoustic waves device modulated in power and frequency (0-50 Hz, 0-5 Bar) for treatment of muscular contractures.
If the treatment of the chronic muscular contractures with MAM® can improve quality life in elderly.
Materials and methods
We have analyzed the results of a comprehensive examination of 5 over 60 age patients (Group 1: aged 76+/-5,2 years) and 5 control over 60 age patients (Group 2; aged 74+/-2,2 years). Every group was studied with a manual objective examination of the skeletal muscle apparatus to find perceived and evoked contractures reported on a paper map support. This map allows to transfer with accuracy to the physiotherapist which are the points on which he must make MAM® treatment.(Group 1: contractures 22,8 +/-1,47 ; Group 2: contractures 23,4 +/-2,03). To each group was given a BPI-sf (Brief Pain Inventory) to have a review of quality life the first day of examination and at the last day of treatment. Group 1 was treated with an acoustic wave modulator device (MAM®) , once a week, for four weeks. Each point was treated three times every sitting (16 sec for point). Group 2 was not treated
Conclusions
Treatment of chronic muscular pain with acoustic MAM® device reduces VAS value in BPI from 5,8+/-3,46 to 0,5+/-0,93, reduces of 70% muscular contractures and improve quality life in elderly.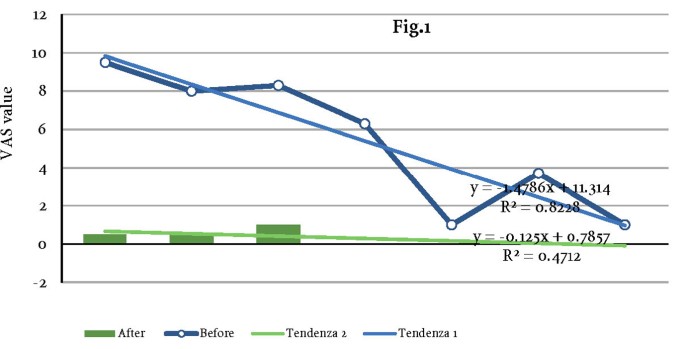 Rights and permissions
Open Access This article is published under license to BioMed Central Ltd. This is an Open Access article is distributed under the terms of the Creative Commons Attribution 2.0 International License (https://creativecommons.org/licenses/by/2.0), which permits unrestricted use, distribution, and reproduction in any medium, provided the original work is properly cited.
About this article
Cite this article
Mandolesi, S., Mandolesi, D. & Ciciarello, F. Chronic muscular Pain treatment with Muscular Acoustic Modulator Device in elderly. BMC Geriatr 10, A111 (2010). https://doi.org/10.1186/1471-2318-10-S1-A111
Keywords
Acoustic Wave

Quality Life

Pain Treatment

Acoustic Modulator

Muscle Contracture